Revolutionizing the World: "Sanatani" – Unveiling the True Power of Vedic Rituals
New Delhi (India), May 26: In the midst of a global economic crisis and widespread job loss, a beacon of hope has emerged, led by a remarkable individual dedicated to creating job opportunities and revolutionizing the startup world. There are individuals who rise above the challenges and create opportunities for others.
One such inspirational figure is Mr. Yajna Prakash, an alumnus of the prestigious Indian Institutes of Management (IIM) and a doctoral candidate at the Indian School of Business (ISB) in Hyderabad. Mr. Prakash has embarked on a revolutionary journey by joining forces with renowned Vedic scholar Shri Shiva Amit Khanna ji to launch a groundbreaking startup called "Sanatani."
Having made a name for himself in the global brand management arena, Mr. Yajna Prakash brings a wealth of experience to the table. With over 25 years of expertise in the US and UK markets, he has successfully facilitated the establishment of numerous international brands worldwide, playing a pivotal role in attracting multinational corporations to India.
Coming from an engineering and corporate background, Mr. Prakash initially approached life from a practical standpoint, giving little thought to the essence of Vedic rituals. However, after experiencing a sense of unfulfillment despite his professional success, he sought guidance from Shri ShivaAmit Khanna ji to explore the potential blockages hindering his progress. The resulting transformation was nothing short of astonishing. Witnessing a holistic development across various aspects of his life, Mr. Prakash went on to recommend Shri ShivaAmit Khanna ji's teachings to friends, family, and clients from both India and abroad. The overwhelmingly positive results cemented his belief that this knowledge and practice should be made accessible to those struggling worldwide.
However, Mr. Prakash's personal journey took an unexpected turn when he delved into the realm of Vedic rituals and spirituality.
Together, they aim to bridge the gap between ancient Vedic rituals and modern-day challenges, offering personalized and cosmic-aligned practices that bring about life-changing transformations.
Unveiling the Vision
The vision of Sanatani is to ensure that the profound knowledge and practices of Vedic rituals reach a global audience, particularly those who are struggling and seeking solace in various aspects of their lives. Yajna Prakash's personal journey of self-discovery and transformation propelled him to pledge his commitment to make Vedic rituals accessible to all. In 2020, during a global lockdown and uncertain times, Yajna took the initiative to decode the true essence of ancient Vedic rituals in collaboration with Shri ShivaAmit Khanna ji. This endeavour led to the realization that a crucial missing factor existed in the world of Vedic rituals – the lack of personalization and alignment with cosmic forces.
The Evolution of Sanatani
Through meticulous surveys and extensive analysis of the global spiritual market and Vedic ritual services, Yajna Prakash and ShivaAmit Khanna discovered the need for a paradigm shift. Ancient rituals were either unknown to people or performed without proper understanding and alignment with individual needs and cosmic forces. The birth of "Sanatani" was the answer to this realization, aimed at revolutionizing the understanding and practice of Vedic rituals.
The religious and spiritual market in India reached a staggering $54.1 billion in 2022. Experts project this market to grow at a compound annual growth rate (CAGR) of 10.32%, reaching $97.2 billion by 2028. Sanatani aims to tap into this thriving industry by providing authentic and personalized services.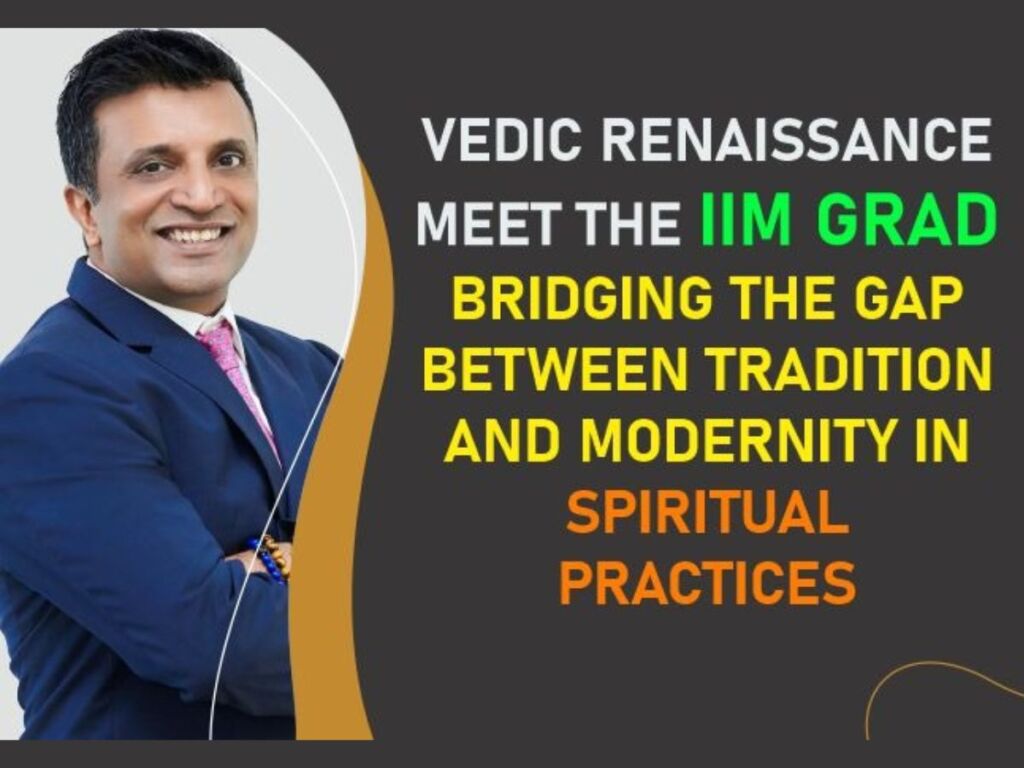 Empowering Individuals Through Cosmic Alignment
Sanatani holds the key to unlock the true potential of Vedic rituals by offering a range of tailored services and products designed to cater to the unique needs of individuals. The organization's mission is to raise awareness about the correct rituals and provide personalized Vedic recipes based on an individual's cosmic alignment. By harmonizing personal goals with cosmic forces, individuals can experience a profound transformation that positively impacts all aspects of their lives.
Comprehensive Training and Business Opportunities
Sanatani's commitment to empowerment extends beyond personalized rituals. Yajna Prakash recognizes the importance of creating job and business opportunities for thousands of individuals seeking to thrive in the spiritual market. Sanatani offers comprehensive training programs and equips aspiring entrepreneurs with the necessary tools to establish successful ventures. By fostering a supportive ecosystem, Sanatani aims to uplift and inspire individuals to become leaders in the realm of Vedic rituals.
The Global Expansion
While the specifics of Sanatani's services and products remain undisclosed for now, the organization is gearing up for its highly anticipated launch in July in India. With ambitious plans for global expansion, Sanatani seeks to revolutionize the spiritual landscape by providing individuals worldwide with an authentic and transformative experience of Vedic rituals. The launch of Sanatani heralds a new era, one that embraces the ancient wisdom of Vedic rituals while addressing the contemporary needs of individuals in an ever-changing world.
Conclusion
In conclusion, Sanatani, spearheaded by Yajna Prakash, an alumnus of IIM and pursuing his doctorate from ISB Hyderabad, is set to transform the understanding and practice of Vedic rituals. Through the collaboration with Shri ShivaAmit Khanna ji, Sanatani aims to bring personalized and cosmic-aligned rituals to individuals worldwide, empowering them to achieve holistic transformation. With a strong focus on awareness, personalization, and business opportunities, Sanatani is poised to revolutionize the spiritual landscape and bring about a harmonious cosmic alignment for a brighter future.
Driven by the alarming state of the Indian population, which has now surpassed 1.5 billion, Mr. Prakash resolved to utilize his educational background and extensive business experience to generate employment opportunities. He aims to provide consistent work for thousands of people in India through Sanatani, with a target of offering job opportunities to over 10,000 individuals within the first 12 months of successful operations.
With a formidable team composed of alumni from institutions like the National Institute of Fashion Technology (NIFT) in Delhi, Sanatani is set to disrupt the spiritual market on a global scale. While the official launch date remains undisclosed, Mr. Prakash has announced that Sanatani will commence operations in India in July, with plans for international expansion in the future.
If you have any objection to this press release content, kindly contact pr.error.rectification@gmail.com to notify us. We will respond and rectify the situation in the next 24 hours.
Follow Us On